Annual Picnic
There is a reunion/picnic this year (2023) on August 6, 2023 with a watermelon feed on Saturday evening (August 5 at 6:00 pm)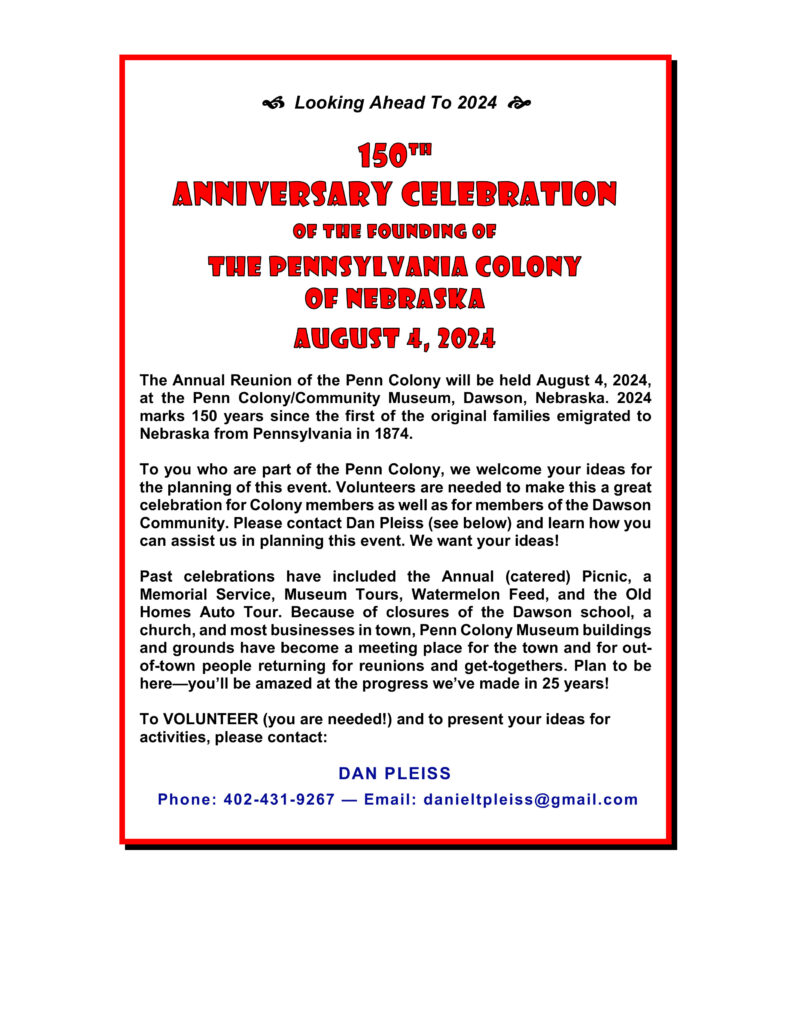 How Did the Picnic Begin?
Many of us have been attending the annual Pennsylvania Colony Picnic all of our lives. We look forward to lots of good food and to getting reacquainted with our many cousins, who now come from a dozen or so states each August.

We are indebted to the late Elma Heim Griffith for her account of how the tradition of the picnic got started many years ago.

"Late in the summer of 1922 my parents (Jacob S. and Rebecca Heim) and I made an extended visit to Pennsylvania. In October, 1922, when we returned home, we brought with us Tom and Ida (Waltz) Ulmer, Tom's sister, Miss Louisa Ulmer, and Edgar Heim. Tom and his sister were cousins of Israel, Emanuel, Sarah, and Martin Ulmer, and Ida was a cousin to the John J. and Johnnie Heim families. Edgar Heim was a nephew of Henry W. Heim and came to Dawson to make it his home for a number of years.

"In order that these people from Pennsylvania might meet the relatives here and get a good start on their visiting, my mother planned a general gathering for Sunday, October 15. Each family was notified to bring enough food and table service for their own family. We made a large table under the big maple tree in our front yard and all the food was set out on this table. Everyone enjoyed the hours of visiting during the afternoon. The young people played 'Last Couple Out,' 'Three Deep,' 'Run, Sheep Run,' and 'Ruth and Jacob' in the front yard.

"This gathering was so much enjoyed it was agreed to make it an annual affair and to call it 'The Pennsylvania Colony in Nebraska Reunion.' For several years it was held in our yard. Then others of the group invited the Reunion to their homes. The attendance grew from 78 in 1922 to 120 in 1955. The highest number present at any time was 142 in 1949 (which celebrated the 75th anniversary of the colony's founding)."This account, we have edited, is taken from Elma' s Folklore of a Pennsylvania Colony in Nebraska, 1955. (Note that the 1999 picnic, a two-day affair celebrating the 125th anniversary, was attended by nearly 200 descendants.)
Picture of 125th Reunion in 1999. Are you in it??