Dawson, Nebraska
Didjaknow?
By Bob Williamson
The little town of Dawson, Nebraska has taken some real hits in these changing times but there is one institution that continues with vigor and good health. Not many small towns boast a library! The John G. Smith Memorial Library opens its doors every Tuesday morning for the day and is busy with the hum of people checking out books, returning books and magazines and videos they have enjoyed that week.Carol Kean, local retired elementary teacher, is the lady that makes it work along with a dedicated and supportive board and community. The library does receive a small amount from the city budget, which mostly pays for the utilities. Carol tells of a lady passing thru recently who recognized the library sign, stopped and came in about closing time, ask a few questions and wrote a $500 check to support expenses. No one has seen her since. Also many interested persons in the community annually donate to keep the doors open and the budget paid.
Story hour begins at 9:00am and around the little table gather from 6 to a dozen youngsters listening to a story and having some treats that loving moms have prepared. After school the rush is on as students of all ages raid the library for books, which they have not read, or come in to dodge the snowballs and chat with Carol.
The library has a storied history. Mrs. Arta Draper Parriott lead a committee of interested people in the community and formed plans and raised donations for the first library building. She was librarian from 1944 – 1959. The Dawson Herald Newspaper reported December 16, 1943 that with cash donations, some good used books, and new ones ordered, "that this project is launched with the belief that the community at large will respond with the generosity and enthusiasm already shown by those to whom it has been mentioned". The notice was signed by Mrs. John L. Parriott, Mrs. Dan J. Riley, and Carl Baltensperger.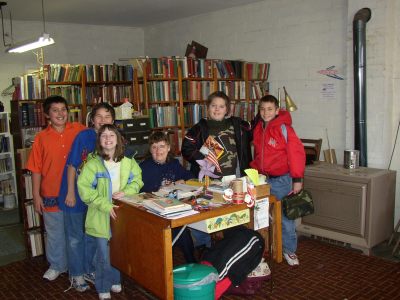 Many of the well-read books and magazines are still available to be checked out and enjoyed. The Nebraska City Library sends down a box of "large print" books upon request, which offers some new reading for the regular patrons. Also books of special interest can be obtained from the State Library Commission. In browsing thru the offerings one can find nearly complete collections of famous authors of westerns and fiction. The old Dewey Decimal System is still used, as the library does not have a computer to update a new system of recording.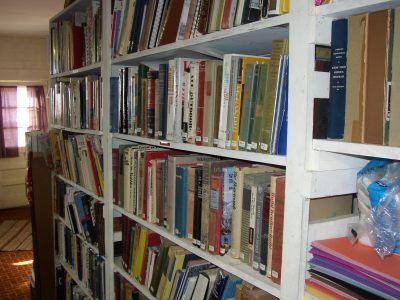 People in the community donate books occasionally and Carol says, "I could use some help in cataloging them as I just don't have time". This little piece of Americana is worth noting in this day of fast changing society. The next time you are driving down the long hill on main street Dawson…slow down and take a look in the ole John G. Smith Library and if it is Tuesday, sit in on story hour or say hello to a dedicated lady whose smile welcomes you and makes you want to check out one of her books and return often. And if you are lucky grab a hand full of her newly popped corn and a cup of coffee and just chat.