Dawson's First Telephone
Feature Story March 2006
Dawson's First Telephone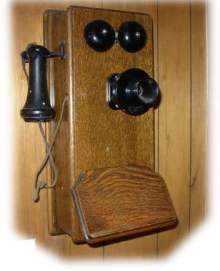 The first telephone to come into town was installed in the R.E. Fenton Drugstore on July 15, 1897 by the Nebraska Telephone Co. However this must have been the only one in the town of Dawson.

The Dawson-Nemaha Telephone Company was organized on January 22, 1902. Elected as the board of directors were J.G. McGinnis, Oliver Ayers, Rice Page, Frank Blakeney and R.E. Fenton. The capital stock of the company was $2,500 and it was planned to build a line from Dawson to Middleburg. Any farmer buying two shares of stock at $25 each and living along the line was entitled to service.

The farmers north of town had organized their own corporation earlier and this was combined with the Dawson-Nemaha Company and the capital stock was then increased to $10,000. February 28, 1902 the Stockholders were listed as: J.G. McGinnis, Oliver Ayers, Gottlieb Wittwer, Sam Lee, Frank Nims, Frank Blakeney, Charles Easton, S.A. Fairbanks, Charles Burgett, J.A.Burgett, John Kane, James Ayers, Frank Bacon, Sterling Gentry, Frank Porter, Rice Page, Elva Duryea, H.C. Bacon, Mrs. Nellie Wrighton, Fred Kernan, W.L. Bohrer, John Gentry, John Triggs, Granville Boyle, Alf Page, John Lyons, Sam Heim, Joseph Heim, Jonathan Heim, Jacob G. Heim, Isreal Heim, Solomon Ulmer, Emanuel Ulmer, Martin Ulmer, J.S. Heim, W.G. Hummel, William Strunk, Ed Leatherman, Wilbur Burr, Fred Lenherr, H.S. Belden, R.B. Allen, Henry Heim, Jonas Heim, Wm. Fenton, M. McSwinney, Riley and O' Grady, James O'Grady, Frank O'Grady, C. M Linn, Frank Damon, C. F. Heim, R. E. Fenton, Dr. Waggener, Cummings and Fenton. E.E. Barlow and Co. E.W. Buser and E. J. Satterwhite.

It was nothing to see 12 or more lumber wagons with stock racks, loaded with fat hogs in a long string going to Dawson where the hogs were loaded into stock cars and sent by rail on their way to market. Neighbors helped each other in this method of marketing stock. The telephone was great help in this. Now the town and the country people were able to have telephones installed in their homes and though service was not up to the standards of today it was a much improved way of getting help when needed, whether it was sickness, a fire, or need for help for hauling hogs to town for shipping out to St. Joe the next day.
Also it was no longer the prescribed thing to do, to go visiting without an invitation for dinner given by telephone first. No more surprise visits catching the hostess without prepared food for a houseful of company.
The Dawson Telephone Exchange was purchased by the Lincoln Telephone Company, Lincoln, Nebraska eventually, and many changes have been made since 1902.