Pennsylvania Dutch Crumb Cake
Feature Recipe November 2010

(from Susan Williamson Latusek)
4 C Flour
1/2 tsp Salt
1 C chilled butter or margarine, cut into small pieces
1 C Sugar
1 C firmly packed Brown Sugar
2 tsp ground cinnamon

Topping of Cake

6 T Butter-melted
1/2 tsp ground ginger
1/2 tsp ground nutmeg
1/4 tsp ground cloves
1 tsp baking soda
1 C buttermilk
1 egg
2 tsp vanilla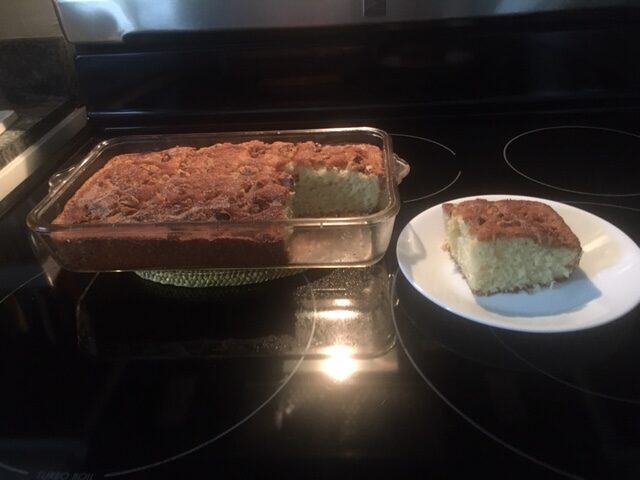 1. Preheat oven to 350 degrees. Coat a 12x8inch baking dish with cooking spray. 

2. To prepare crumb base, stir together flour and salt. Add butter and cut into flour with a pastry blender or two knives until the consistency of medium-fine meal. Add Sugar, brown sugar and cinnamon. stir well. 

3. To prepare topping, transfer 4 Cups of crumb base to a medium bowl. Add melted butter; stir only until blended. Fluff mixture with fingers to make coarse, buttery crumbs. 

4. Add ginger, nutmeg, cloves and baking soda to remaining crumb base. Stir well. Add buttermilk, egg and vanilla; beat to make a smooth, thick batter. 

5. Spread batter evenly in prepared pan. Sprinkle topping evenly over batter. 

6. Bake 40-45 minutes, until topping is lightly browned and a toothpick inserted into the center comes out clean. Cool in pan on a wire rack. 

7. Dust top of cake with powdered sugar, if using. Serve warm or at room temperature.